87 - SUMMER BLOCKBUSTER WEEK: NERM-ALERT - Garfield from June 11, 2004
Nick and Lance rate, recap and rank Garfield from the day the movie came out: June 11, 2004!
a month ago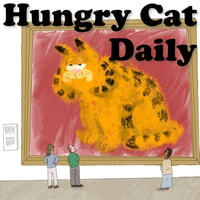 Summer is here, and you know what that means: Blockbusters! Today Hungry Cat Daily kicks off Summer Blockbuster Week, a week celebrating the landmark 2004 blockbuster, Garfield: The Movie!
Nick and Lance recap the Garfield comic strip from June 11, 2004, the day the movie was released. Join us Wednesday and Friday when we give our thoughts on the movie. And if you haven't seen it, it's available to stream on Disney Plus!
Check out our Twitter, @hungrycatdaily!
Today's Garfield comic: June 11, 2004
Follow our old viral Twitter account, @ToiletGarfield!
Follow our new viral Twitter account, @HeathcliffRecap!
Send us an email with your Garfield memories to HungryCatDaily@gmail.com!
Follow us on Instagram @hungrycatdaily and Facebook!
Music: VHS Dreams by Shane Ivers - https://www.silvermansound.com
Artwork by Addison Billingsley